Veterinarians
Dr. Ellis

Veterinarian
Dr. Ellis grew up in North Hollywood, Ca where attending North Hollywood High School Zoological Sciences Magnet school helped fuel a passion for animal. He has a BS in Zoology and MS in Biology from California State Polytechnic University, Pomona. He graduated from Western University of health Sciences, College of Veterinary Medicine in 2013. When not caring for your pets he can be found enjoying life with his wife and two children, from cheering on the LA Kings at a hockey game, the St. Louis Cardinals at a baseball game, camping or whatever other adventures comes along in life!!
Dr. Moussa

Veterinarian
---
Staff
Heather

Practice Manager
Hello My name is Heather I am the Practice Manager, I have been at Alta Loma Animal Hospital now for 15 years. I started here as a receptionist/tech, I floated around wherever my help was needed. I love what I do and couldn't fathom doing anything else. I have been in the veterinary field for 18 years, and have helped a number of pets, from dogs and cats up to sheep, and horses. It is never a boring job! Something new happens every day. I love seeing families reunited when they come pick up a pet we've had and there are smiles and tail wags and happy meows. I have multiple dogs and cats.....too many :) To all of our old clients who know me and to new clients coming in I look forward to seeing you and your furry family members!
---
Caroline

Receptionist

Hi My name is Caroline and I am a receptionist at Alta Loma Animal Hospital. I started here back in 2008 going back and forth from reception to tech work. I stayed for 6 years and then took a break to finish up my schooling. I learned so much during those years and working with this wonderful family here, that I changed my major to veterinary school. I heard that they were hiring again and immediately applied, so now I am back as a receptionist. I am currently applying to vet schools in the hope of one day being a Veterinarian here at Alta Loma.
---
Ana

Receptionist
Hello my name is Ana I am one of the receptionists here at Alta Loma Animal Hospital. I have been in the Veterinary field for 4 years now. I have always had a passion to work with animals. I consider myself so blessed to work in a field where I can dedicate myself to caring after pets. When I'm not working I enjoy going to the movies, Dodger games, music festivals, and doing things with my family and friends. Animals will always be my passion and weather it be my own or clients they will always have the best care that I can provide. I look forward to meeting you all and your pets!
---
Joanne

Head Veterinary Technician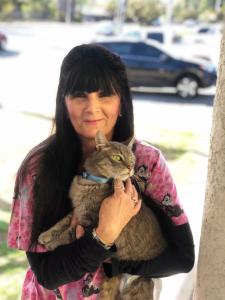 My name is Joanne and I am the Head Veterinary Technician here at Alta Loma Animal Hospital. I have made my home here for the past 32 years! I am an avid animal lover who throughout the years has had dogs, cats, birds, bunnies, tortoises, and a raccoon, I currently have 5 cats. I have devoted my life to loving and caring for animals. Each day brings a new adventure and I look forward to meeting and caring for your pet!
---
Paul

Technician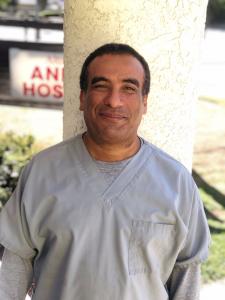 Hi my name is Paul I am a technician, and I have been working at Alta Loma Animal Hospital for 4 years now. I love working with animals and currently own 2 parakeets, 1 dog, and a cat. In my time off I love to take my kids and dogs to the park.
---
Lalo

Technician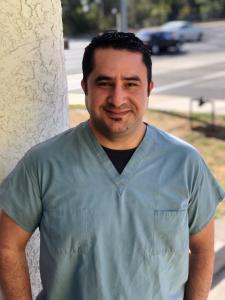 Hi my name is Lalo I am a technician, and I have been working at Alta Loma animal Hospital for about 2 years now, but I have 15+ years in the veterinary field. I love dogs and cats, I have 2 dogs of my own. I love playing and watching sports, hanging out with my family and friends, and my amazing coworkers.
---
Liz

Head Groomer
Hi my name is Liz and I am the head groomer here at Alta Loma Animal Hospital, I've been here for 5 years. I started grooming 12 years ago and it is truly my passion. My goal as a groomer is to make each pet feel safe and look their best while they are in our care. If you have any questions about your pets grooming needs I would love you hear from you!
---